Australian Experiences We Love
Australia and New Zealand are incredible countries to call home and we think it's the local and unique experiences that make you appreciate where you are. We have put together a collection of some of our favourite experiences to give examples of the incredible memories you can create when planning your next trip with us!
Meet the Producers - Barossa Valley – Private Tour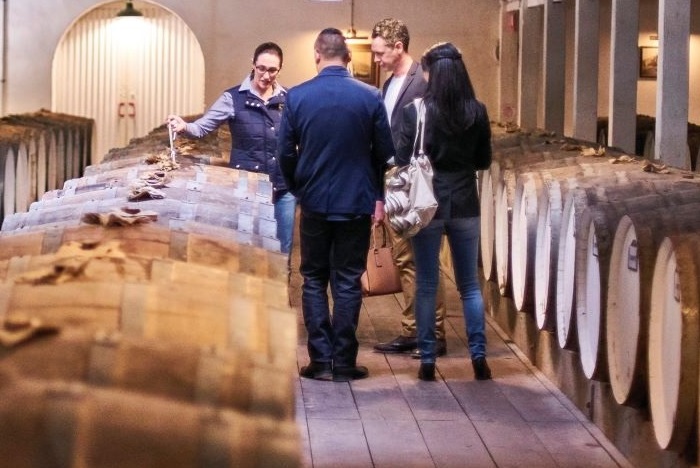 Wanting to support local? Taste the best wine and produce? Meet the makers? This private tour will take you to a range of small producers and local artisans of the Barossa Valley - you will truly experience the history, the flavours and the faces behind the renowned Valley for yourself.
Stop at Krondorf Creek Farm to see their lovingly restored original 19th century buildings, including the smokehouse and now cellar door, to learn their story and taste their wines. Meet Barossa local Jess Greatwich, co-owner and custodian of Krondorf Creek Farm, who has transformed this mixed-use farm into a wonderful cellar door, vineyard and legacy experience, with an amazing collection of history and memorabilia that charts the early Lutheran origins of Krondorf. Enjoy steeping yourself in this history, whilst enjoying a tasting of Krondorf Creek Wines in the old stone cellar door next to their vineyards.
Next visit Seppeltsfield Estate and start with a degustation lunch at South Australian icon, Fino Restaurant, described by Australian food critic John Lethlean as "the best place in Australia for a long lunch". After lunch enjoy the incredible Taste Your Birth Year Experience at Seppeltsfield where you get to taste a fine tawny port direct from the barrel of your birth year, in their internationally acclaimed Centennial Cellar that has the longest lineage of single vintage wines in the world dating back to 1872.
After your amazing port experience, visit Vasse Virgin Skin Care and Olive Oil Factory, where staff will show you their range of natural skin care products, using a traditional cold process method. Also look into the Jam Factory which provides a unique hub for craft and design in the Barossa. The facility provides studio space for professional artisans working in a variety of media, including knife making, ceramics, millinery, glass and leather. A separated walkway through the building allows visitors to meet the makers and view their skills in action; with public workshops available, providing a hands on experience. The gallery presents a diverse program of curated exhibitions showcasing local, national and international work by leading artists. The retail shop provides an extensive range of hand-crafted ceramics, furniture, glassware, jewellery and other collectables by pre-eminent Australian artists and designers
Finish the day with a panoramic 4WD trip into Jacob's Creek Steingarten Vineyard, which stretches across 3.6 hectares of the Barossa Ranges. The name Steingarten translates to 'stone garden' and you'll enjoy spectacular views from this most famous vineyard.
E-Bike Adventure and Small Batch Winemaking – Private Tour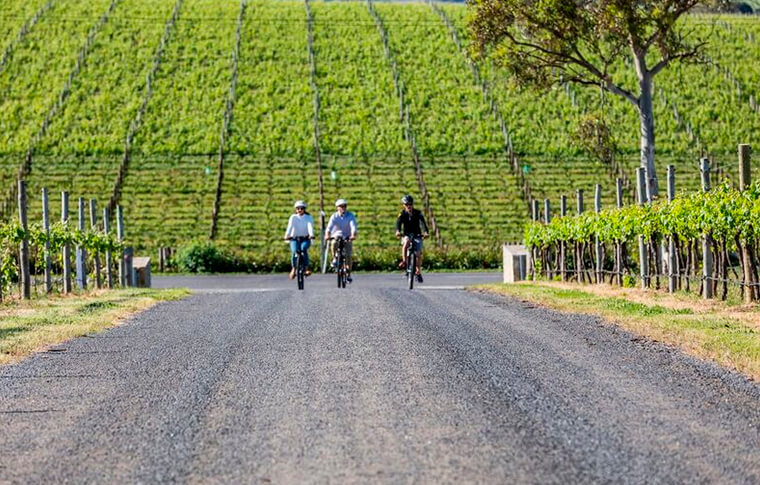 Visit a range of cellar doors and local characters along McLaren Vale's famous Shiraz Trail with your local guide. After a morning pick up, start the e-bike ride from Primo Estate by riding to Dowie Doole to the north of the region to enjoy a structured tasting, then head back along the Shiraz Trail for a two course lunch and matched wine at Red Poles restaurant, followed by a tour of their indigenous art gallery. Continue your ride along the foothills to see two of McLaren Vale's most famous old vine Grenache vineyards before dropping into historic Willunga, one of the first regional settlements in South Australia. Finish with a beautiful ride back to Primo Estate where you'll enjoy their Joseph Experience Masterclass, where they match their most special wines with a selection of their olive oils and local home-made breads.
Late afternoon you will be driven to a beautiful vineyard high up in McLaren Vale. Stop to see Rob Mack, winner of the 2018 Young Gun of Wine, enjoying a tasting of his award winning Aphelion Wines as you walk through one of the highest vineyards in the region, with majestic unspoilt views of McLaren Vale and the coast that sits behind it.
Pearl Farming with Adventure – Private Tour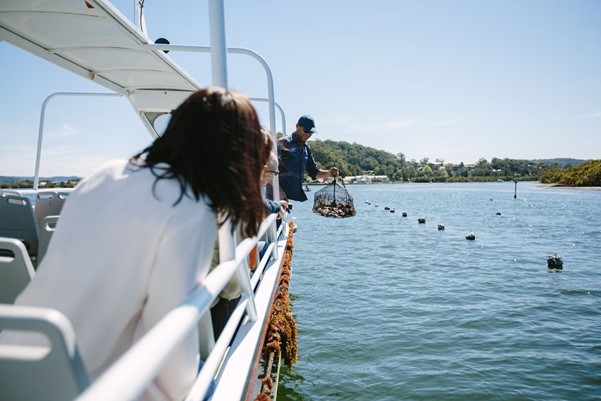 Start the morning with an amazing 45-minute flight to the secluded Glenworth Valley. Travelling at low level you will get amazing views of the city and famous harbour as well as the rugged coastline. On arrival at Glenworth Valley you will be met by your guide before starting a one and a half hour quad biking experience.
Feel the wind on your face as you zip along the private bush trails taking in some of the Valley's best scenery before arriving at the purpose-built quad biking track. This quad biking track has been specially designed for maximum fun. Enjoy a Gourmet picnic style lunch before boarding your private vehicle and making your way to Broken Bay.
Enjoy a private tour of Broken Bay Pearls, a unique pearl farming enterprise based on the banks of the stunning Hawkesbury River.
After learning a little about the process of Pearl Farming, board the company's boat for a tour into the pristine waters to view the oyster leases where the pearls are grown. Oysters will be picked straight from the water and opened to show the stunning pearl being grown inside. As a bonus, you may like to purchase a pearl and have it fashioned into jewellery. To conclude your day, head back to the oyster shed and enjoy some afternoon tea of fresh oysters and some local wine.
Hunter Valley Food and Wine Trail – Private Tour
The Hunter Valley wine region north of Sydney offers a wide range of World Class food and wine. Experience the most exclusive wine tastings with the winemakers and enjoy perfectly match canapés and fromage to compliment the experience.
Departing Sydney with your private guide, head north across the Sydney Harbour Bridge and through Sydney's leafy Northern suburbs. Cross the Hawkesbury River and enjoy views of the Ku-ring-gai National Park. Travelling via the scenic and historic Wollombi Road, enjoy morning tea before entering the Hunter Valley via the Brokenback Range.
There is no better place to begin your journey in the Hunter Valley then at Brokenwood. Begin with an intimate tasting in the private tasting room and your personal host will guide you through six premium wines paired with specially prepared canapés.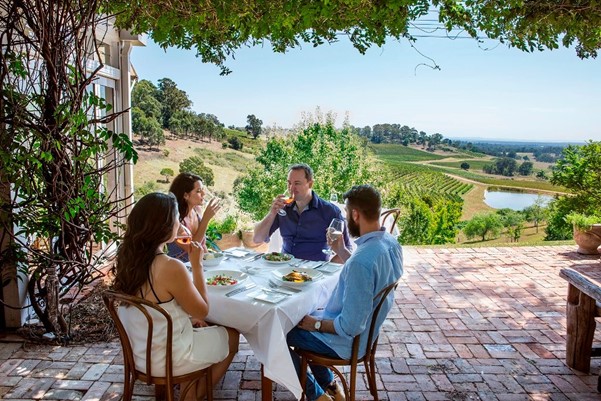 Afterwards, arrive at Tyrell's where you are joined by a member of the winemaking team as they take you on an exploration of the vineyard and behind the scenes of the winery. Taste wine directly from the barrel, enjoy a tutored tasting of Tyrell's award winning single vineyard and Winemaker's Selection wines, including current vintages and museum wines carefully selected from the Tyrrell family's private cellar.
Lunch today is at Bistro Molines, set among the peaceful surrounds of Tallavera Grove, overlooking a valley of terraced vineyards and grazing cattle. Bistro Molines combines the finest food with relaxed friendly service and European influenced serenity. Chef Robert creates sophisticated yet rustic French Provencal dishes for his ever changing menu and continues to amaze with his culinary genius that attracts people from the world over to his little piece of paradise.
From here, head to Audrey Wilkinson, one of the oldest wineries in the Hunter Valley and well known for their Semillions and Shiraz. Enjoy a truly unique and memorable experience. Guided by their in house wine expert, your seated tasting experience will take place in their heritage listed museum space. Alongside sampling their range of premium wines, your host will deliver generous tastings direct from the barrel. Wine will be delicately matched to Fromage, sourced locally.