New Zealand Highlights
Immerse yourself in the very best New Zealand has to offer with this incredible comprehensive itinerary which can be tailored to suit different travel time frames and interests. This itinerary is designed to show off our favorite destinations throughout the country showcasing a huge variety of beautiful scenery and memorable experiences.

?

?

Day 1: Arrive in Auckland
Upon arrival into Auckland International Airport you will be met by your private driver and vehicle and transferred to your accommodation.
Enjoy Auckland, the City of Sails. Take a cruise on the famous Waitemata Harbour or go racing on an America's Cup yacht. Enjoy a gentle ferry ride to the seaside suburb of Devonport.

Stroll around the northern side of Viaduct Harbour, with over thirty cafés, bars and restaurants to choose admiring the super yachts and cross the footbridge to Auckland's Wynyard Quarter and North Wharf area, a trendy apartment and cafe environment that is incorporated into a working fishing wharf, alongside large public spaces. Wynyard Quarter is packed with lively, stylish places to eat day or night. On Friday nights in summer enjoy Silo Park's food trucks. Walk the promenade to and climb a 12-metre high steel gantry for one of the best views in town.

In the other direction along the waterfront is Britomart a lively precinct with designer shops and great eateries. An exclusive walking tour can be arranged if you would prefer to discover the secret spots of Auckland City with a local guide.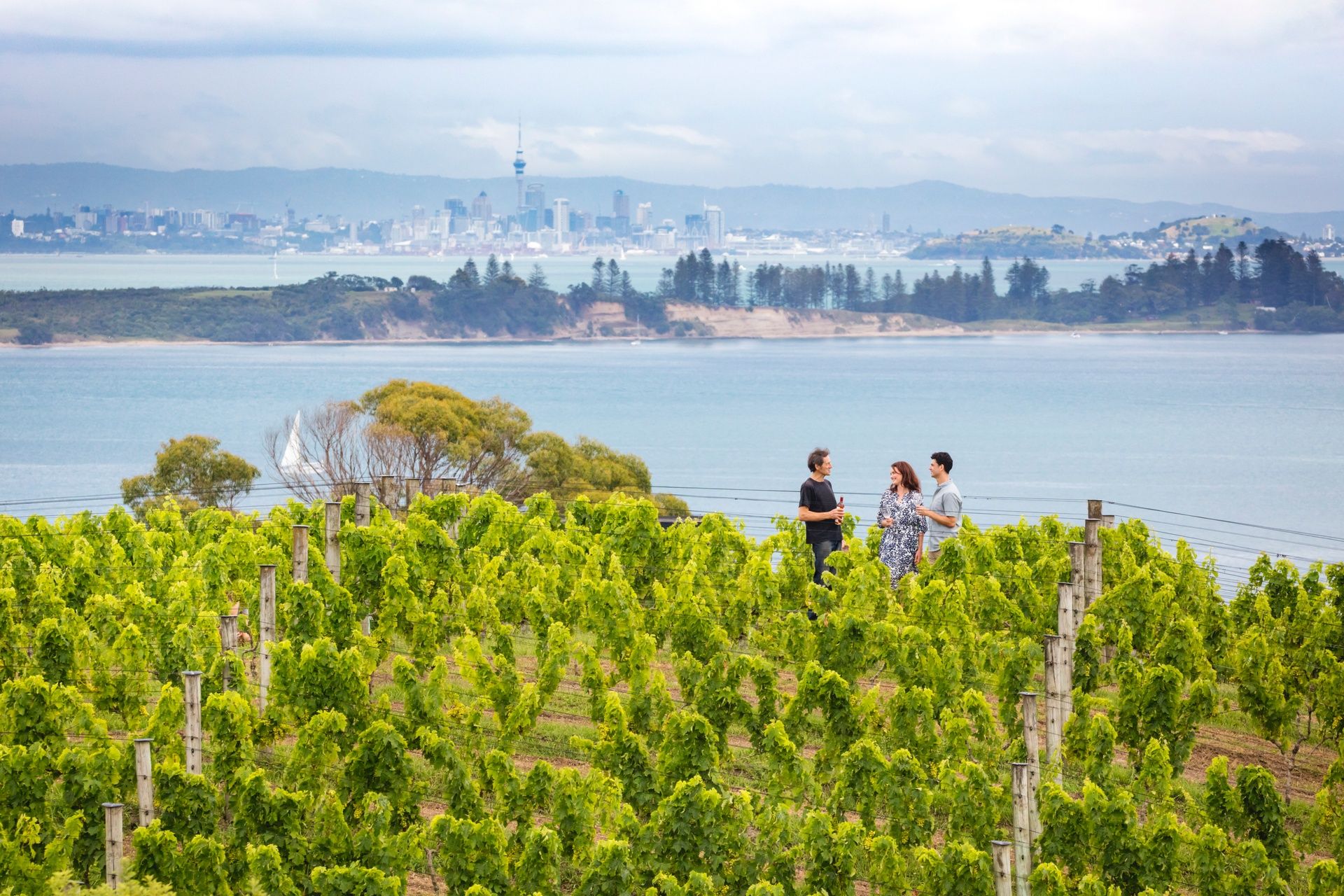 ?

?

Day 2: Waiheke Island Private Tour
Make your way to the Auckland Ferry Terminal and depart on your Ferry to Waiheke Island. Upon arrival on Waiheke Island, tour the Island's most respected vineyards with your own knowledgeable guide on a private tour.
Through connections formed over many years in the industry your guide can introduce you to wine makers, viticulturalists, winery owners and local wine personalities. Guests have the opportunity to taste wines not generally available to the public and sample current vintages directly from barrel or tank.?

Waiheke Island has a rich history as a haven for artists and creative, talented residents. Art from Waiheke is highly sought after locally but also attracts international attention from personalities such as Bono, Placido Domingo and Peter Jackson. Your guide can arrange a personalised visit to any of the various studios and / or art installations found on the island. A unique opportunity to meet with the artists involved and discuss / observe the factors that have influenced their creative direction. ?

?

?

Day 3 and 4: The Coromandel
Collect your rental vehicle from the Auckland downtown depot and drive south through Auckland before you head east to The Coromandel Peninsula.

Explore The Coromandel. Northern highlights include Hot Water Beach, a surf beach with hot thermal springs that emerge on the beach itself two hours either side of low tide. Check the tides, hire a spade and dig your own hot spa! Mercury Bay offers a beautiful coastline with Cathedral Cove being one of its jewels – a great short walk or a short boat trip from Hahei. The area is also a great location for sea kayaking with renown coastal and big game fishing ex Whitianga. Explore New Chum Beach to the north, taking the coastal track around low tide from Whangapoua.

Enjoy a coastal cruise, over 2 action packed hours you will visit the Mercury Bays top beaches including Lonely Bay and the stunning Shakespeare Cliff, Cooks Beach, Hahei, Hot Water Beach and of course the wonderful Cathedral Cove where "The Chronicles of Narnia & Prince Caspian" was filmed. Get up close and personal with towering pinnacles like Champagne Rock, giant blowholes and sea caves, including the exciting, Orua Sea Cave that we enter when sea conditions are right! Visit the Te Whanganui-A-Hei Marine Reserve, where an abundance of marine, bird and plant life flourishes over 3 kilometres of pristine coastline and unspoilt native bush.

?

?

Day 5 and 6: Rotorua
Your next destination is Rotorua. The inland route takes in Te Aroha which is home to Hot Soda Thermal pools with its silky hot natural waters, and Matamata (aka Hobbiton to Lord of the Rings fans, and yes, you can visit Hobbiton itself!).

One evening evening you will be collected from your accommodation to enjoy an evening of Maori culture through a concert and a traditionally cooked meal. The Mitai is a Maori Family, descendents of the local tribe of Te Arawa. They will entertain and educate you in Maori tradition. This is an authentic and intimate Maori experience where you get to meet and hear stories of past bravery, love, heartbreak and adventure.

Experience a walk through spectacular New Zealand native bush. The track winds its way alongside the crystal clear waters of the Tarawera Falls, past fast flowing water that suddenly disappears underground only to explode out of a shear rock face forming the magnificent Tarawera Falls. Following your walk you will again be met by water taxi for a 15 minute ride through the Ariki Arm to Hot Water Beach to explore its amazing geothermal area – the sand is warm enough for a fisherman to cook freshly caught trout! From Hot Water Beach take another short boat trip along the bush-lined lake edge to the Natural Bush Hot Pool to lie back in the crystal clear tempered waters and enjoy the unspoiled native forest environment.

?

?

Day 7 and 8: The Hawke's Bay
Travel south to the Hawkes Bay which is home to the Art Deco City of Napier and is one of the country's largest wine producing areas.

Head to Te Awanga to visit the world's largest, accessible gannet colony at Cape Kidnappers. Travel through Cape Kidnappers Station - traversing riverbeds, broad rolling pastures, through stands of native bush, steep gullies and breath-taking inclines. You will see adults and young nesting in serried rows carrying out their daily routine. In the air above your heads these amazing birds with their six foot wing span (2 metres) swoop and dive as they bring back fish.

Meet with your private guide for a regional wine tour. Your guide for the day has an excellent knowledge of wine and the Hawke's Bay scene. Hawkes Bay is located at 39.4°S, in the North Island of New Zealand. The climate is maritime and similar to Bordeaux. As well as complex and rich chardonnays, red wines also feature with over 80% of New Zealand's plantings of merlot, cabernet sauvignon and syrah grapes.

?
?

?

Day 9 and 10: Wellington
From Hawkes Bay to New Zealand's cosmopolitan capital – Wellington. Your route takes you through the Wairarapa and the wine region of Martinborough for a late lunch before climbing over the Rimutaka Ranges

Head to Te Papa, New Zealand's national museum, for a private tour. Te Papa Tongarewa literally means 'container of treasures'. At Te Papa, you'll discover the treasures of New Zealand's land and people, and our stories told with authority and passion.

?

?

Day 11, 12 and 13: Nelson Region
Join the Interislander ferry, known as one of the most beautiful ferry journeys in the world, as it travels from Wellington to Picton. Collect another rental vehicle and drive on to Nelson

The Nelson region is known for its year-round sunshine, golden beaches, national parks, boutique wineries, microbreweries and a large creative community of working artists. Add to this locally grown produce, freshly caught seafood, historical streetscapes and waterfront restaurants and you'll see that it offers a thoroughly pleasurable way of life.

Join your beautiful catamaran to explore along the Abel Tasman National Park's coastline past Split Apple Rock, Kaiteriteri, Marahau, round golden sandy bays, Adele and Fisherman Islands and onto Tonga Island seal colony.


?

?

?

Day 14 and 15: Blenheim

?
Blenheim, the heart of Marlborough, is renowned for wine – in particular Sauvignon Blanc. Just to the west of the town on the fertile Wairau Plains are some of New Zealand's finest wineries including labels like Cloudy Bay, Allan Scott, Shingle Peak and Matua Marlborough.

Head to The Omaka Aviation Heritage Centre which houses a display like no other and you don't have to be an aviation buff to enjoy it! The development of aviation and the stories of the men that flew them are brought to life in two distinctive exhibitions.

??

?

?

Day 16 and 17: Kaikoura and Christchurch
From Blenheim hug the rugged coastline through to Kaikoura - this journey is a scenic feast of New Zealand, with the Kaikoura mountain ranges on one side and the Pacific Ocean coastline on the other.

Join the Whale Watch Boat Tour. Giant Sperm Whales are year-round residents with this being New Zealand's only vessel based whale watching company offering an exciting up-close encounter with the world largest toothed predator.
A typical Whale Watch tour may also encounter New Zealand Fur Seals, pods of Dusky dolphins and the endangered Wandering Albatross. You could also see Humpback Whales, Pilot Whales, Blue Whales and Southern Right Whales and Orca.

From Kaikoura drive south through to Christchurch. North of Christchurch is the Waipara Valley, home to some great boutique wineries with cafes and restaurants.

?

?

Day 18 and 19: Mt Cook
From Christchurch drive through the Canterbury Plains passing Ashburton towards Timaru. At Geraldine, an attractive town with forests, gardens, fruit, wines and a vintage car and machinery museum, head inland via Fairlie and Burke Pass to Lake Tekapo, home to the Church of the Good Shepherd and picture perfect scenery. From Lake Tekapo continue west to Lake Pukaki before climbing along the western shores high into the Southern Alps and Mt Cook/Aoraki.

Have an amazing encounter with New Zealand's largest glacier, the Tasman Glacier. Explore and learn about the ever-changing glacial landscape as you journey across the terminal lake. Icebergs of every shape and size periodically tear away from the face of the glacier into the rapidly growing lake. Feel small as the lateral moraines rear up almost 200m, reminding us of the scale and greatness that the glacier has reached in previous times.

??

?

?

Day 20 and 21: Wanaka
Retrace your route back to the southern end of Lake Pukaki and then travel south, first through Twizel and Omarama, one of the best place in the world for gliding, then over the Lindis Pass and right just after Tarra to Wanaka

Enjoy a boat cruise on Lake Wanaka followed by a unique nature walk on Mou Waho Island. Lying close to the centre of Lake Wanaka is Mou Waho Island Nature Reserve. A unique glacial remnant of the last ice age, the island is also the historic site of early shipbuilding and used to be a stopping place for the steamers and log rafts that once plied the lake.

?

?

Day 22, 23 and 24: Queenstown
Drive out from Wanaka and climb up and over The Crown Range, with stunning views down the valley to Queenstown and Lake Wakatipu.

Queenstown is the South Island's premier destination and it is easy to see why. With a cinematic background of mountains and lakes, this region has a unique and inspirational range of activities and experiences. As well as spectacular outdoor terrain, the region is famous for all manner of adventure activities such as bungy jumping, sky diving, white water rafting, jetboating, ziplining, biking and kayaking.

Drive out to Glenorchy for your Dart River Jetboat Safari – one of the most scenic Jet Boating trips in New Zealand. Ride along the Dart River amongst towering mountains and the refreshingly beautiful wilderness of the Mt Aspiring National Park. Then take a short and easy walk through ancient forests, unchanged for 80 million years. ??

Day 25 and 26: Fiordland
From Queenstown, head south alongside Lake Wakatipu before heading west towards Lake Te Anau, the gateway to Fiordland.

Make your way into Te Anau where your Te Anau Glowworm Cave adventure begins.Your trip begins with a cruise to the western shores of Lake Te Anau on a purpose-built scenic cruise vessels. On the tour of the caves, your friendly guide will point out the highlights and share their knowledge of the caves and its history.
Deep inside the caves, beyond the roar of the water, you will be taken by small boat into a silent hidden grotto inhabited by hundreds of glowworms, unique to New Zealand. In the subterranean darkness, they produce a glittering display that is nothing short of extraordinary.

Join your local nature-guide for your small group tour to Milford Sound. On reaching Milford Sound, join a Nature Cruise for an extended cruise of Milford Sound to the Tasman Sea. The cruise provides excellent viewing opportunities and plenty of time is available to view waterfalls, rainforest, mountains and wildlife. On completion of the cruise, you will begin your overland tour. If you prefer shorter walks you will enjoy a series of walks in a range of different environments. If you would like a longer hike option, a 2.5 hour unguided walk to Key Summit on the renowned Routeburn Track is offered.

?

?

?

Day 27, 28 and 29: Bay of Islands
From the South to the north, fly from Queenstown to the Bay of Islands.

Sail & cruise through the Bay of Islands aboard an awesome 54 ft sailing catamaran, offering you a totally unique way to experience this beautiful area. Enjoy level sailing, all-round visibility and heaps of comfortable space, inside and out. Explore isolated beaches and lush, uninhabited islands and bush hikes, with spectacular cliff top views. Observe the unique bird and marine life in this special region, swim or snorkel from the easily accessed swimming platforms, or take the inflatable dinghy ashore and swim from the beach.



Day 30 and 31: Hokianga
From the West to the East Coast, drive straight across the Island tothe Hokianga Harbour, where its told that Kupe made his first landing & discovery of Aotearoa (New Zealand) in the 10th Century.

Join a friendly local Maori guide for your journey to the rich eco-system otherwise known as the Waipoua Forest. Witness the day transition to night and by default feel your senses become hauntingly enhanced. Just like these giant kauri trees the memories you seize are timeless treasures. As you enter the forest you step into a special world; a world of giants that have stood silently for centuries witnessing the many feats of mankind. You will learn about the indigenous use of plants and be amazed at the life cycle of a kauri giant.
For full itinerary details, including accommodation suggestions and costings, please contact us.