Australian Highlights
Short on time but want to see as much of Australia as you can? Experience the best Australia has to offer with this once in a lifetime itinerary which can be tailored to suit different travel time frames and interests.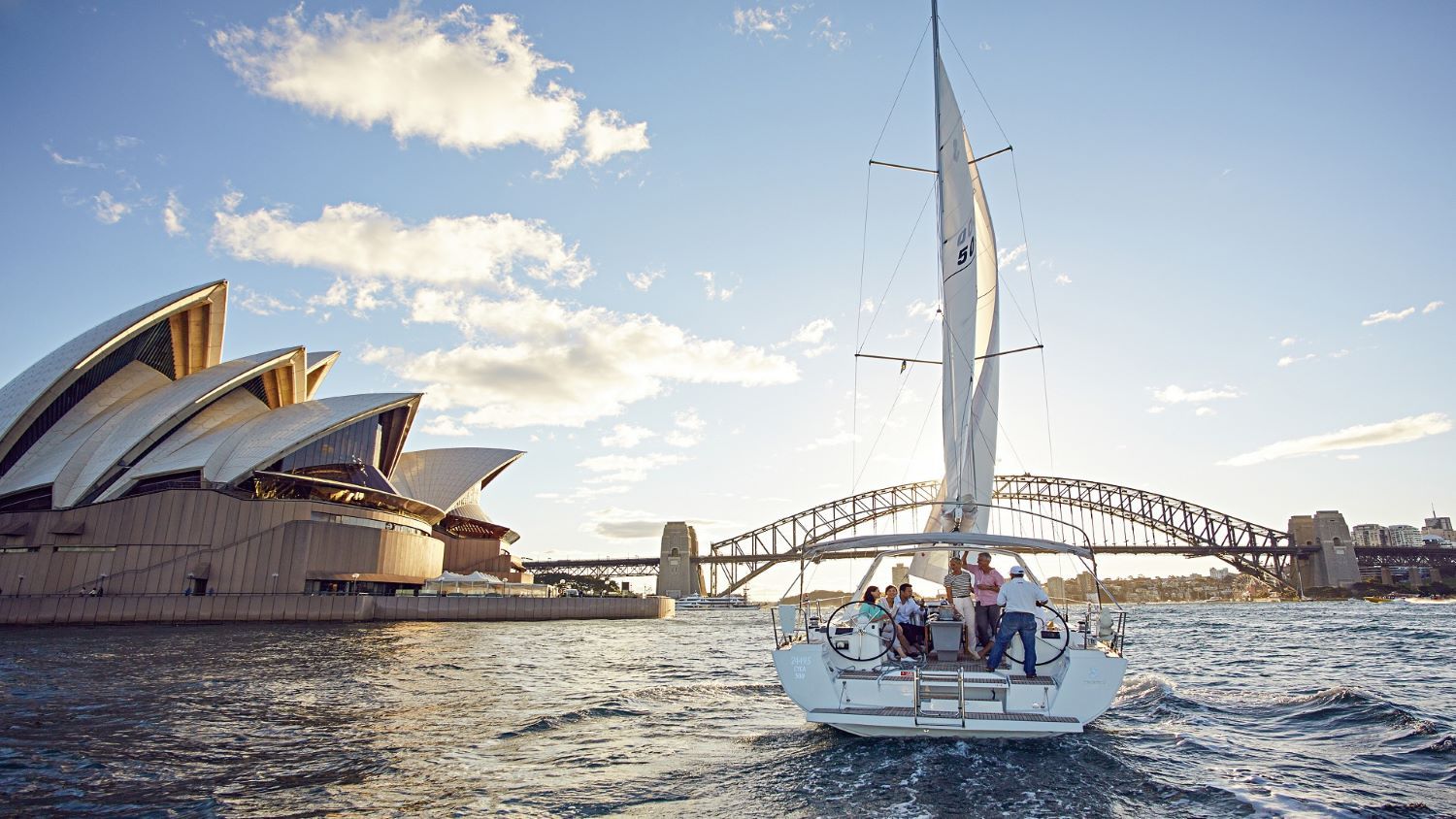 ?

?

Day 1: Arrive Sydney, Bike Tour, Sail on Sydney Harbour
Upon arrival into Sydney International Airport you will be met by your private driver and vehicle and transferred to your accommodation.
Whilst you wait to check in to your room, what a great way to start your trip by exploring Sydney on a 4 hour Sydney Classic Cycle Tour. You will be taken on a tour of Sydney's most iconic sights, and tons of other sights you may miss on your own.
Later this afternoon, make your way to the waterfront where you will meet your boat for your 2.5-hour private twilight sail on board a skippered yacht. Let the fresh sea breeze blow your cares away as you sail under the Sydney Harbour Bridge, past the Sydney Opera House and Fort Dennison, beautiful bays and glamorous mansions. Take an active role or sit back and marvel at the magnificent Sydney skyline.


?

?

Day 2: Blue Mountains Small Group Tour

First stop is at Featherdale Wildlife Park, home to Australia's favourite marsupials. Arriving early means beating the crowds and allows you to get up close and personal with Kangaroos, Koalas, Wallabies and Wombats. You will love these amazing animals.

Continue west towards the Blue Mountains National Park. You will have time to roam the area and seek out the wild kangaroos and birdlife that frequents this part of the National Park. Your next stop is Kings Tableland. This breath-taking view looks out over the Jamison Valley. You will see first-hand the ruggedness and beauty that the Blue Mountains are famous for.

Head to Wentworth Falls. Here you will be guided down a well-worn path towards the falls and stunning views. Experience the local flora and fauna up close as your guide informs you of the incredible geology of the Blue Mountains and how they were formed.

At Eagle Hawk lookout you will see the famous 3 Sisters Rock formation and marvel at the stunning views of the Jamieson Valley. From here you will continue around Narrowneck Plateau for more incredible vantage points.

Day 3: Sydney Opera House Back Stage Tour, Twilight Bridge Climb
Early this morning make your way to the Opera House, where you will be met by your guides for this once-in-a-lifetime intimate experience. You are granted VIP access to Sydney Opera House where you can go behind-the-scenes and access areas where some of the world's most famous stars rehearse for the big night

Having spent the afternoon at leisure, join a guided Twilight Bridge Climb and see Sydney from a different point of view – and it's quite some view. Spending approximately three and a half hours on the bridge itself, you will weave through catwalks, up ladders and then to the most spectacular point of all - the upper arch Climb. At this point you will have a bird's eye view of the beautiful Sydney Harbour and city.

Day 4: Fly to Cairns, Transfer to Port Douglas
Today you will be met at your accommodation by your private driver and vehicle and transferred to Sydney Domestic Airport prior to your onwards flight.

Fly Sydney to Cairns

Upon arrival into Cairns Airport you will be met by your private driver and vehicle and transferred to your accommodation. The drive between Cairns and Port Douglas provides spectacular ocean views along a string of picturesque beaches that divides the reef and rainforest. As you travel north you will pass the northern beaches of Palm Cove and Ellis Beach, before passing the Rex Lookout where you can see Port Douglas and forested peaks of the Daintree National Park and Cape Tribulation in the distance.

Day 5: Daintree Wanderer Small Group Tour
Departing your accommodation you will travel through the rich farming areas toward the World Heritage Listed forest region of the Daintree National Park. Take a cruise on the mirrored smooth waters of the Daintree River, cruising close to riverbanks and under the overhead canopy of the rainforest seeking out the vivid Ulysses Butterfly, Kingfishers and various other wildlife. Arriving on the northern side of the river you will now enter the Daintree section of the Wet Tropics World Heritage protected rainforest. Here you will immerse inside the protected forests and take you on a guided walk to view ancient plants and amazing wildlife. Next up, stop at the magical Thornton Beach where your guides will highlight the amazing wildlife and ecosystems unique to this part of the world. You may be the only people on this stretch of wilderness beach.

Lunch is a special treat today, enjoy a delicious meal of tropical rainforest-inspired local produce, whilst bathed in the serenity of the Tropical Rainforests.

After lunch you will get to see unusual, exotic fruit originating from all over the globe's tropical regions. The sole purpose for the fruit grown at this orchard is to make pure, fresh, ice cream which is made on the property and sold nowhere else on the globe. Your last stop and final lasting impression will be at the outstanding panoramic picture postcard view at Alexandra Range Lookout.

Day 6: Great Barrier Reef Afternoon and Sunset Sail
This afternoon you will be collected from your accommodation to begin your afternoon Low Isles Snorkel and Sunset Sail. Experience the ultimate in relaxed sailing and snorkelling on the Great Barrier Reef, Low Isles onboard a luxury catamaran.

Explore the protected Coral Cay with white sandy beaches and coconut palms surrounded by magnificent coral gardens and the Coral Seas. The catamaran moors in the sheltered blue lagoon so you can relax on the island, join a guided snorkel tour, take a trip on the glass bottom boat or laze on the deck before an exhilarating sail back to port.

Day 7: Fly to Uluru, A Night at Field of Light
Today you will be met by your private driver and vehicle and transferred to Cairns Airport prior to your onwards flight.

Fly Cairns to Uluru

Dinner tonight will be a special experience – 'A Night at Field of Light'. Prior to Sunset you will be transferred from your hotel to a special location amongst the red sand dunes with Uluru and Kata Tjuta as your backdrop. A lone didgeridoo echoes across the desert as you enjoy champagne and canapes while the sun sets in a blaze of reds and oranges, and well into the starlit night, you feast on an array of the Northern Territory's culinary delights, including barramundi, kangaroo, emu, crocodile, bush salads, and classic Australian desserts. Attention then turns to some of the world's best stargazing, with the assistance of the resident astronomer. Before the evening comes to a close, your host will provide insights to the art installation that awaits you, before you're invited to immerse yourself in the Field of Light.

Day 8: Small Group Dot Painting Workshop
This afternoon join one of the Anangu artists for a fun introduction to Western Desert Art. Your Anangu Artist and workshop host will provide an introduction to Anangu culture and show how this is expressed in the artworks. You will also be taught some introductory Pitjantjatjara words (Pitjantjatjara is a local language spoken by Anangu) and through an introduction to Anangu tools, you will get a sense of traditional and contemporary life. Complete your own painting, which you can take home as a memento of your experience.

Day 9: Desert Awakenings Small Group Tour
Travel away from the crowds to a secluded sand dune to watch the spectacular sight of sunrise over Uluru and Kata Tjuta. In the company of your expert guide and with no more than 15 other passengers, Desert Awakenings is designed to introduce you to the natural and cultural landscapes of this remarkable region.

You arrive at your private dune top viewing area well before the sun breaches the horizon. As your traditional bushman's breakfast is being prepared for you, your guide will explain the retreating star scape above.

Next depart for Uluru-Kata Tjuta National Park and the first stop is Kuniya where you'll take a short walk to the Mutitjulu waterhole. A visit here will help appreciate its cathedral like proportions and why it is such a powerful and spiritual place for visitors and Anangu alike. A guide will explain some of the rock paintings and some of the stories from the creation period as told by the Anangu people. Next stop is the Cultural Centre, a vibrant and engaging place of learning where the local lore of the Anangu (Aboriginal people) is explained in detail.

Day 10 and 11: Fly to Kangaroo Island, Island Life
Fly Uluru to Kangaroo Island via Adelaide

??Travel through some of the island's best farming country to the North Coast. Take a walk through Lathami Conservation Park which has been set aside to protect the habitat of the critically endangered glossy black cockatoo. This park is also home to a wide variety of wildlife such as the tammar wallaby, Kangaroo Island kangaroo, echidnas and goannas.

Walk quietly through the bush with your guide - what makes that noise, who's tracks are those, who left that little pile there? Look for wallabies extinct on the mainland, a kangaroo found only on Kangaroo Island, and learn about some of the unique Island plants.

Break for lunch at a private lunch site in the bush and your guide will become your personal chef and prepare a delicious barbeque featuring local seafood, fresh salads and South Australian wines. At Seal Bay Conservation Park walk with your guide amongst Australian sealions on a beautiful sandy beach. Watch pups nursing or playing in the surf and see old bulls bearing the scars of territorial disputes.

Day 12: Flinders Chase Focus
This tour focuses upon Flinders Chase National Park which covers the entire western end of the island. Work to establish this vast park began in 1888 making it one of the world's oldest - and it is clear to see why people wanted the area protected. Unspoilt and diverse, it is home to a wide variety of plants and animals - some found nowhere else on the planet.

Visit Rocky River, site of an impressive visitor centre interpreting many facets of the park and its history. This area is the winter breeding area for the rare Cape Barren goose and home to kangaroos, wallabies, koalas, platypus and many birds.

At Cape du Couedic visit a fur seal colony which now numbers over 20,000 after being decimated by hunting in the early 1800's. These animals can be observed resting on rocks or frolicking in the surf under Admirals Arch, a spectacular grotto. On the headland above is a substantial stone lighthouse where three lightkeepers and their families lived, maintaining a beacon for ships.

Further up the coast is another impressive stone structure - this one a natural construction. Remarkable Rocks, huge granite boulders, have been carved by relentless wind, rain and salt off the southern ocean. The resultant sculpture combines the work of Henri Moore and Salvador Dali!?

Day 13: Fly to Melbourne, Private Arrival Transfer and City Orientation Tour
Fly Kangaroo Island to Melbourne; via Adelaide

Commence an informative orientation tour that takes in some of the city's highlights. Along the way your guide will provide inside knowledge on where to eat and what to see during your time in Australia's cultural, sporting, and culinary capital.Your orientation tour will showcase the vibrant Arts precinct, Flinders Street Station, Federation Square, and the grand Victorian civic buildings of Spring Street. Your guide will assist you to navigate your way through Melbourne's labyrinth of laneways and arcades and will be able to assist with anything you may need to ensure you have a wonderful stay in Melbourne.

Day 14: Private Great Ocean Road Tour by Road

Your journey along the Great Ocean Road begins at Australia's celebrated surfing mecca and home to the world's oldest and most prestigious surfing event, the legendary Bells Beach. Further down the Great Ocean Road you will have the opportunity to walk among lazy mobs of wild kangaroos luxuriating on the renowned Anglesea golf course.

Thereafter the carved cliffs of the winding Great Ocean Road afford panoramic views of lighthouses, windswept beaches and sandy coves. Arriving at the picturesque seaside hamlet of Kennett River, you can observe dozing koalas in their natural habitat and brilliantly hued king parrots and crimson rosellas.

After a sumptuous lunch of local seafood and regional produce in the popular holiday village of Apollo Bay, the road forges inland through the verdant gullies of the Great Otway National Park.

Finally, the road emerges on the dramatic Shipwreck Coast near the iconic Twelve Apostles, the scenic highlight of the day. Stroll cliff-edge boardwalks for the perfect vantage point of these limestone stack formations and the nearby Loch Ard Gorge. Adventurous travellers can descend all eighty-six of the Gibson Steps down to the beach.

Day 15: Phillip Island Wildlife Encounters Private Tour
This afternoon your tour begins with a visit to the Moonlit Sanctuary Wildlife Conservation Park where you will meet the who's who of Australian animals in an exclusive keeper-led experience. Hand feed kangaroos and wallabies, pet a koala, walk with dingos, feed furry little sugar gliders, and meet many more Australian animals.

Departing the sanctuary, the tour continues to the compact, pristine wildlife haven of Phillip Island. Stroll the boardwalks around The Nobbies absorbing coastal views at lookout points set amongst natural sea bird gardens. Be transfixed by the thundering blowhole and keep your eyes out for a rare sighting of the iconic little penguins.

As the sun begins to set, the journey continues along the Summerland Peninsula toward the Penguin Parade visitor centre. Travel off-road along the rugged island coastline and spot wild wallabies and Cape Barren geese as they graze at dusk. Prior to the arrival of the penguins, join your small group and local ranger who will lead you on an intimate and informative journey through the penguin colony. Take your seat away from the crowds in the wonderfully located beachfront viewing stand offering superb viewing of the penguins emerging from the water and crossing the beach. Watch in awe as members of the 32,000 strong penguin colony waddle their way to their nests.
For full itinerary details, including accommodation suggestions and costings, please contact us.