Australian Southern Sojourn
Australia is the world's largest island and the planet's sixth largest country - in fact you could fit the whole of Europe inside it. Australia is a BIG country - we get it. With so much to see and experience, it's important to get your itinerary planning right - that is where we can help as this is our expertise!
Below we outline a wonderful four day/three night itinerary that makes the best use of a long weekend or short break, packing in Australia's best wine country, landscapes and wildlife - you will love the combination of experiences and the efficient use of your limited time, as there is no backtracking over the same ground.
Highlights (with private or semi private options) include:
• Two days touring on the Fleurieu Peninsula, including lunch
• One night accommodation at the Coastal Lodge (dinner, bed and breakfast)
• Ferry to Kangaroo Island
• Two days touring on Kangaroo Island, including lunch
• Two nights accommodation on Kangaroo Island (dinner, bed and breakfast)
• Hotel transfers
Detailed Itinerary
Day One - Fleurieu Peninsula
Experience the finest elements of McLaren Vale including unspoiled coastline, an ancient gorge and the best of regional food and wine. Highlights include a morning walk into Onkaparinga Gorge, the Wirra Wirra barrel hall and wine tasting, lunch at Red Poles or Wirra Wirra, a visit to an Indigenous art gallery, tour and wine tasting at d'Arenberg where architecture took inspiration from a Rubik's Cube, meet the owners at Bekkers Wine and savour a wine masterclass overlooking their estate, followed by a stunning drive down Silver Sands beach. Your accommodation tonight is the Coastal Lodge, which is a beautiful bed and breakfast with three suites overlooking the rolling countryside and Fleurieu coastline. For dinner, enjoy a Wild Coast BBQ which showcases the quality beef this region is known for accompanied by wine from the owner's private cellar.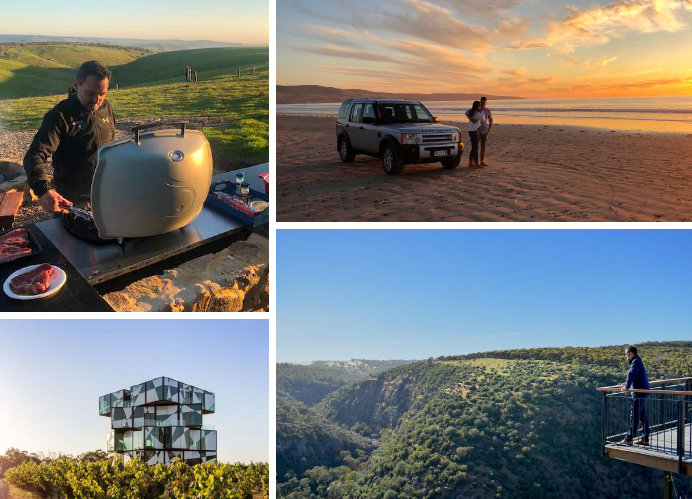 Day Two - Fleurieu Peninsula
Begin at Carrickalinga, voted South Australia's best beach by Lonely Planet. Take a stroll in Deep Creek Conservation Park seeking out native plants and animals while enjoying views across to Kangaroo Island. Drive the steep 4WD track down to Blowhole Creek, where a short walk reveals a remote Southern Ocean beach. This beach is a beautiful backdrop for our local produce picnic served with beer or sparkling wine. After lunch, marvel at the resilience of nature slowly reclaiming the ruins of historic Talisker Silver Mines. The Fleurieu adventure ends at Cape Jervis, the departure point for the Kangaroo Island ferry and the next part of your adventure. After a 45 minute sea crossing to Kangaroo Island you will take a short transfer to your accommodation for the next two nights - choose from Oceanview Eco Villas or Mercure Kangaroo Island Lodge - all reservations will be on a dinner, bed and breakfast basis.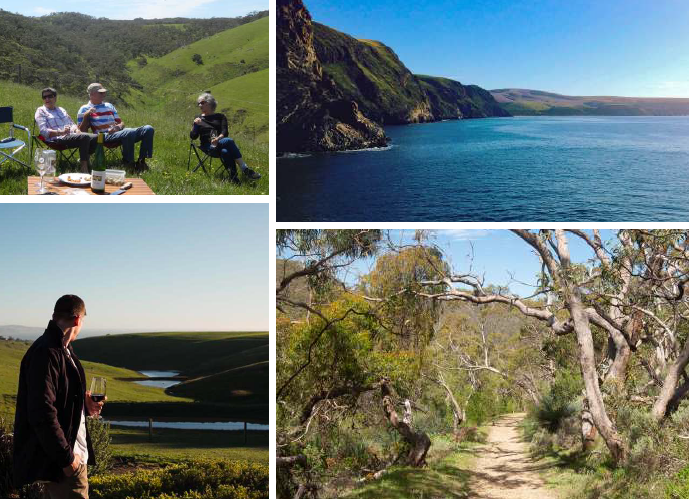 Day Three - Kangaroo Island
Welcome to Island Life - where things take time, drivers wave as they go by - or even stop for a chat. Enjoy a cuppa with home-baked morning tea before taking a walk down a country track through tall Eucalyptus trees where koalas snooze overhead or wake briefly for a feed. Listen for the sounds of the bush – brightly coloured honeyeaters and brilliant parrots, cicadas or perhaps just the sound of silence. Travel through the Island's most productive country to the north coast. Walk through the bush with your guide – through strangely shaped trees learning what makes that noise, whose tracks are those, and who left THAT little pile there? Look for small wallabies almost extinct on the mainland, a kangaroo found only on Kangaroo Island and a variety of other birds, plants and animals. Break for lunch at a private bush camp and enjoy a delicious meal featuring King George whiting (local sea fish), fresh salads and fine South Australian wines. At Seal Bay Conservation Park take a private tour with your guide among Australian sea-lions on a beautiful sandy beach – an experience similar to that of the Galapagos. Watch pups nursing or playing in the surf, see old bulls bearing the scars of territorial disputes and learn about their unique breeding biology. At the conclusion of your tour, return to your accommodation.
Day Four - Kangaroo Island
Check out of your accommodation and take your luggage with you as today's tour concludes at the airport. Begin the day on the island's north-west in an important private wildlife refuge with Kangaroo Island Land for Wildlife which was unburned in the 2020 bushfires. Check out wildlife surveys using daylight and infrared camera traps, targeting tiny endangered mammals and get an introduction to the bush, so the fire ecology experienced later in the day has context. Break for an elegant picnic lunch in the bush, featuring marinated poached chicken, fresh salads, cheeses and boutique South Australian wine, beer, soft drinks and spring water. After lunch, travel into Flinders Chase National Park via the West End Highway, stopping to learn how the bush has adapted to fire. Explore the south-west peninsula around Cape du Couedic including the lighthouse precinct and our most iconic coastal landscapes. This includes the massive shapes of Remarkable Rocks, a natural sculpture perched impossibly on top of a dome of granite emerging from the ocean. Evidence of the power of the Southern Ocean swell continues at Admirals Arch – a coastal grotto which provides a haul out for a large colony of Long-nosed fur seals who swim effortlessly through the crashing waves. Visit Rocky River, an important breeding ground for rare Cape Barren Geese before returning to Kingscote Airport to conclude the tour.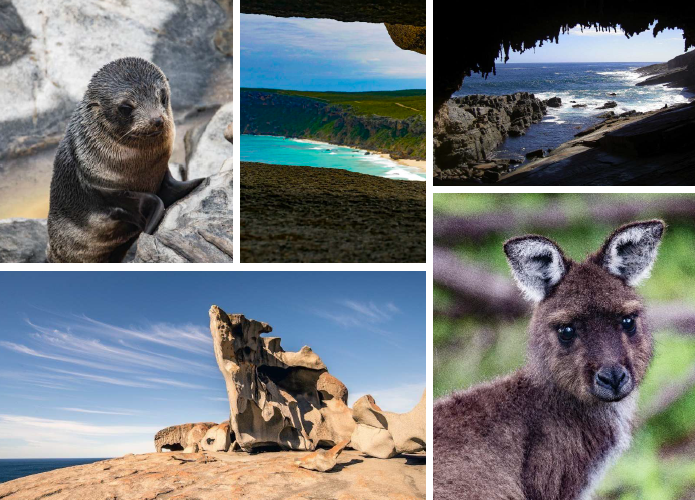 Contact us at Beyond the Blue and we can arrange a time to call and chat about your upcoming Australian trip.